NEWS RELEASE 07/06/18

On 6 June 2018, Luton Culture charitable Trust secured a vacant plot of land on Guildford Street. On this gap-site the charity is planning to build 'Hat Studios' with £3.9m funding from the South East Midlands Local Enterprise Partnership (SEMLEP) through government's Local Growth Fund. The new building will provide 8,500 sq. ft. of workspace for creative industries and retail managed by the Trust.

This exciting new development forms part of the £6.1m visionary Hat District project led by the arts charity. The project will inject new vibrancy into this run-down part of the conservation area and protect the heritage of old hat factories that are currently falling into disrepair.
Gap site as it is at June 2018 | 33 Guildford Street Luton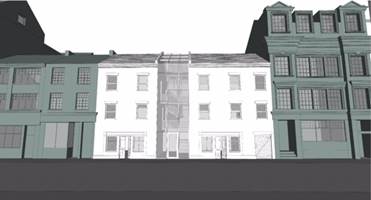 Concept Elevation by Stenton Obhi Architects


Marie Kirbyshaw, Chief Executive of Luton Culture and Hat District Project Lead, said of the new development:

"Hat Studios is the missing jigsaw piece as the Trust develops Hat House, Hat Works and the Hat Factory arts centre into a creative cluster. This development is critical to Luton Culture's long-term financial sustainability plan. Income from Hat Studios and Hat House will enable the charity to operate all four of its Hat District buildings financially independent by 2022."


Hat Studios will be architecturally interesting and form part of the Hat District family of restored hat factories. These include the Hat Factory (65-67 Bute Street), Hat Works (47 Guildford Street), Hat House (32 Guildford Street) with shared signage, branding and quality standards. Two of these sites are vacant historic hat factories, which will be brought back into new use. The buildings are within the Plaiters Lea Conservation Area centrally located in Luton between the main railway station and the town centre.

Luton Culture has also released the opportunity to tender for the design of Hat Studios through an open competition. Further details can be found online at: www.lutonculture.com and www.hatdistrict.co.uk.

Hat Studios will be a new building on the gap-site marked with a cross as shown on the map below.



ENDS


NOTES TO EDITORS:

PRESS ENQUIRIES:
Interviews with the Hat District project director and Trust CEO Marie Kirbyshaw can be arranged, as can a tour of the factories. For more information please email Emily.Finney@lutonculture.com or call 01582 878123.

More information on the Hat District project can be found at: www.hatdistrict.co.uk with information about Luton Culture at www.lutonculture.com.

Facebook: @TheHatDistrict
Twitter: @TheHatDistrict
Instagram: thehatdistrict


ATTACHED IMAGES AND CREDITS
Photo of gap-site – Luton Culture
Concept Elevation by Stenton Obhi Architects. Please note permission is required to use this image.
Map of Luton's Hat District - Luton Culture/them

About Luton Culture

Luton Culture Trust is an independent charity and company limited by guarantee established in 2008. We produce and present year-round programmes of activity across our two theatres, museums, arts centre, gardens, historic hat factories and network of libraries. We deliver and develop library services for Luton Borough Council and we also manage the town's heritage collections and archives. We have a collection of over 2 million artefacts, and we hold the most extensive and complete hat and headwear collection in the UK and the Mossman carriage collection at Stockwood Discovery Centre is the largest in Europe. In addition, we have an incredible resource of over 1.5m local photographs and maps and provide access to millions of books through the London Consortia. We are proud to be based in Luton and we welcome thousands of regular local and regional users to our 15 venues. We also invite the wider international community to engage with this incredibly diverse and stimulating town through our cultural offer.



We contribute positively to the social, economic and cultural prosperity of our home-town Luton and surrounding regions. We improve lives by delivering our priorities through:
regenerating and promoting heritage and raising awareness of our environment

providing access to learning, information and culture for everyone through libraries

increasing engagement in exemplary arts through diverse activity, venues and off-site programmes

contributing significantly to the economy by providing jobs, workspace and investment

contributing to the visitor economy through the promotion and animation of our 3 core sites

caring for our environment through recycling, local sourcing and energy efficiency.

investing in skills, developing talent, commissioning research and collaborating in order to foster growth

www.lutonculture.com

Luton developments in the news
Luton has been the subject of several news reports nationally, with regard to its outstanding location, including:
· http://www.telegraph.co.uk/news/2016/12/30/britains-desirable-locationluton/
· http://www.bbc.co.uk/news/business-38554793

The Hat District Project

The Hat District will become a dynamic ecosystem of growing talent and enterprise. The Trust will curate and care for a vibrant mix of creative industries, workspaces, activities, shops, bars, cafes and arts across the neighbourhood. By 2022, the Hat District will be brimming with artists, makers, students, producers, visitors, learners and creative businesses, ideas, skills and knowledge. This creative ecosystem will self-feed and grow strong through a charitable approach to shared learning and re-investment.

The Trust will encourage individuals and micro-businesses to progress from Hat Works to the Hat Factory Arts Centre work and production spaces and then progress onto Hat House. Hat House will target established creative and digital businesses to set up their own independent work spaces on full commercial rents. All established businesses will re-invest their time, expertise and opportunities (and rent) into the ecosystem and those creative practitioners starting their careers. Established businesses will benefit from being part of the creative cluster, networks, ethical and cultural environment and have access to new talent and ideas. Collectively, this will be a creative ecosystem that generates growth, innovation and creative industry success.

As a Trust, we will ensure that all income generated from hires, tickets and sales will be recycled back into arts programmes, events, conservation, marketing and estate management. As an ethical landlord we are committed to safeguarding these hat buildings for arts and cultural use into the long-term.

The Hat District is considered to be the best connected creative workspace cluster in the UK, being a two-minute walk from a mainline train station (21 minutes to London) and bus station connecting the region. In addition it is only 10 minutes by car from the M1 and London Luton Airport.

The quality of arts, architecture, design, heritage and conservation will need to exceed public and user expectations and set new standards for urban regeneration in a multicultural pleural town like Luton.

Background

Following Luton Culture Trust's successful funding bids to bring over £6million of new investment to Luton, work has recently begun to transform three former hat factories into 25,000 sq. ft. of new workspaces for creative industries enabling 133 additional jobs and providing a vibrant district that will attract 135,000 new visitors by 2022.

The Hat District development comprises three key buildings: Hat House, Hat Works, the existing Hat Factory Arts Centre and a new-build also on Guildford Street which will be called Hat Studios. The vision of the project is to create more work opportunities, amplify cultural vibrancy, preserve important heritage buildings and breathe new life into the heart of the town, by creating a bustling neighbourhood where artists, makers, students, producers, audiences, visitors, learners and creative businesses can share their knowledge and skills. The creative ecosystem will nurture and develop creative business start-ups and entrepreneurs, whilst also providing small to mid-sized creative industries with an environment in which to grow and thrive.

Hat District Funders

This important and innovative cultural project has been conceived and developed by Luton Culture Trust and is made possible with investment from:

The South East Midlands Local Enterprise Partnership (SEMLEP) | Local Growth Fund | £3.961m
This major funding has enabled us to make significant progress in developing new creative workspace which will provide more jobs and new spaces for business. The Creative and Cultural sector is a focus for SEMLEP and is promoted through their 'Strategic Economic Plan' and 'Heritage, Sports, Visitor Economy, Cultural & Creative Industry Plan'.


Local Growth Fund
Local Enterprise Partnerships (LEPs) are playing a vital role in driving forward economic growth across the country, helping to build a country that works for everyone.

That's why by 2021 Government will have invested over £12bn through the Local Growth Fund, allowing the LEPs to use their local knowledge to get all areas of the country firing on all cylinders.

Some additional key facts:
There are 38 LEPs covering the whole of England

The government has awarded £9.1bn in three rounds of Growth Deals to local areas to drive economic growth.

LEPs are investing in a wider range of projects including transport, skills, business support, broadband, innovation and flood defences.

Arts Council England | Small Capital Grant | £499,500
This significant funding is towards the redevelopment of the Hat Factory Arts Centre and will enable us to open up the centre to more people and increase access to the arts. The grant will, amongst other things, enable us to improve the quality of our theatre and music venue and provide sound-proofing so that we can deliver more high quality events.

Luton Borough Council | £340,000
This significant funding is enabling us to upgrade facilities at the Hat Factory Arts Centre, to sustain a long-term future for the building and enable the Trust to broaden its audiences and contribute even more to the delivery of Luton's 10 year Arts and Cultural strategic plan.

The Heritage Lottery Fund (HLF) | Heritage Enterprise Grant First-Round Pass | £127,900
This first-round pass awarded is specifically for Hat Works and is a development grant to fully explore the needs and potential of the site. The findings of this funding will then inform a second round application. Luton is a priority development area for HLF who have also recently invested in the Trust's Wardown House Museum & Gallery.

Historic England | Repairs Grant for Heritage at Risk | £44,000
The Trust applied for funding to undertake urgent repairs for Hat Works to sensitively halt the decay caused by pests and mould. This will enable Luton Culture to secure further development funding for the building.

The Architectural Heritage Fund | Project Development Grant | £25,000
This funding enabled us to commission surveys and appoint professionals to develop the design of Hat Works and to help research, and engage communities in, the history of the building to inform final redevelopment plans.